AHA科学年会公布的一项研究表明,一个实验室三维打印心脏模型联合标准医学影像检查可能有助于外科医生治疗先天性复杂性心脏病的患者。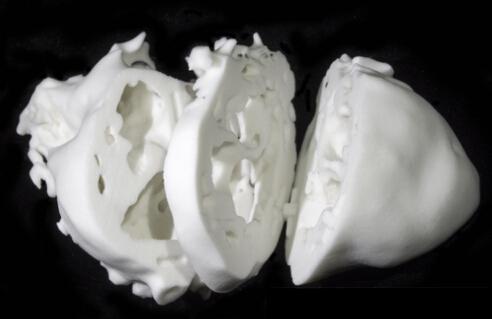 大多数心脏外科医生利用X线所示2维成像、超声和MRI影像来辅助治疗。但这些影像可能不能很好地显示先天性心脏病患者心室的复杂结构。以标准2维成像为指导,医生们做了一个能展现最复杂的结构异常心脏的3D塑料或者陶瓷模型。主要研究者Matthew Bramlet医学博士表示,医生术前准备越充足,越有利于帮助他们做出决断,以更少地碰到一些意外情况。

研究者们利用便宜的塑料为一位9个月的男孩儿、3岁的男孩儿和一位年轻女性分别做了心脏模型,他们均有复杂先天性心脏病。心脏模型为这些患者提供了传统检查不能提供的重要信息,在心脏模型联合传统影响检查基础上,医生们成功地为这三位患者实施了严重心脏病的修补术。

研究者指出,这是一个小规模的研究,三维打印技术还是一个新兴的技术,目前还没有获得美国食品与药物管理局的批准。

研究概述

A 3-dimensional printed model of the heart, combined with standard medical images, may help surgeons treat patients born with complicated heart disorders.

Embargoed until 9:30 a.m. CT/10:30 a.m. ET, Wednesday, Nov. 19, 2014

CHICAGO, Nov. 19, 2014 — An experimental 3-dimensional printed model of the heart may help surgeons treat patients born with complicated heart disorders, according to research presented at the American Heart Association's Scientific Sessions 2014.

Most heart surgeons use 2D images taken by X-ray, ultrasound and MRI for surgical planning. However, these images may not reveal complex structural complications in the heart's chambers that occur when heart disease is present at birth (congenital heart defects), as opposed to developing later in life within a structurally normal heart.

But with standard 2D images as a guide, doctors now can build a detailed 3D model of the heart from various materials, such as plaster or ceramic, to reveal even the most complicated structural abnormalities.

"With 3D printing, surgeons can make better decisions before they go into the operating room," said Matthew Bramlet, M.D., study lead author and assistant professor of pediatric cardiology and director of the Congenital Heart Disease MRI Program at the University of Illinois College of Medicine in Peoria. "The more prepared they are, the better decisions they make, and the fewer surprises that they encounter.

"When you're holding the heart model in your hands, it provides a new dimension of understanding that cannot be attained by 2D or even 3D images. What once was used to build trucks, we're using now to build models of hearts."

Researchers used an inexpensive plaster composite material to create heart models of a 9-month-old girl, 3-year-old boy and a woman in her 20s all of whom had complex congenital heart defects. After studying the models and traditional images, surgeons successfully repaired severe heart abnormalities in all three patients.

"You could see that if you make this compromise here, you could fix this problem, and go from a

single-ventricle to a two-ventricle repair," Bramlet said. "That is the difference, potentially, between a life expectancy of two to three decades, to four, five or six decades."

Researchers caution that this was a small study and 3D printing is still an emerging technology that is not approved by the Food and Drug Administration. The University's collaborator, the Jump Trading Simulation and Education Center in Peoria, made the printer available for the study.

Co-authors are Randall Fortuna, M.D., and Welke Karl, M.D. Author disclosures are on the manuscript.


来源:医学论坛网